May be taken out with full credits.
CREDIT: JOY NEWS 24, ALLKPOP (SOURCES) ; roMANtaec@2ONEDAY.COM (SUMMARY)
QUOTE
닉쿤-슬옹-설리, SBS 시트콤 '웰컴 투 더 쇼' 주연 발탁

<조이뉴스24>
2PM의 닉쿤, 2AM의 슬옹, f(x)의 설리가 SBS 단막시트콤 '웰컴 투 더 쇼(가제)' 주연으로 발탁됐다.

시트콤 관계자는 14일 조이뉴스24에 "닉쿤-슬옹-설리가 주인공으로 결정돼 첫 촬영에 돌입했다"며 "세 사람의 시트콤은 단막극 형식으로 1회만 방송된다"고 밝혔다.

'웰컴 투 더 쇼'는 SBS의 음악프로그램인 '인기가요' 형식을 시트콤에 접목시킨 새로운 포맷의 시트콤. 세 사람은 지난 13일 인기가요 세트에서 시트콤을 촬영했다.

이 관계자는 "일단은 단막극 형식으로 파일럿 방송을 할 것"이라며 "추후 반응을 살펴본 뒤 기획과 보완을 거쳐 정규 편성할 계획"이라고 말했다.

인기 최정상을 달리는 톱 아이돌인 닉쿤과 슬옹, 설리의 출연이 시트콤에 대한 기대감을 더욱 높이고 있다. 특히 설리를 사이에 둔 닉쿤과 슬옹의 줄다리기가 펼쳐질 전망이다.

'웰컴 투 더 쇼'는 방영시기는 아직 미정이며, 3월 중 방송될 예정이다.
SUMMARY:
Seulong, Nichkhun, and f(x) Sulli will be starring in SBS's new sitcom, "Welcome to the Show" (tentative title). It will be like Inkigayo, in a sitcom format. It will air some time in March. The first episode will be a "pilot episode", they will use it to gauge the direction of the sitcom...whether it be a full series or a short-term series, etc.
From AKP:
On February 14th, a representative of SBS's variety team spoke through Star News and revealed, "The new cast had their first recording on the 13th at SBS's 'Inkigayo' studio. There will be a big idol cast with a 'mellow line' between them. Other older actors and singers will also be taking part."

He continued, "Although the broadcast date hasn't been finalized yet, we're aiming for a March release."

SBS began preparations for this project last year, and it'll mark their first sitcom since 2007's "Run Mackerel". Although the sitcom is being prepared as a series, producers have revealed that they will observe viewer responses after the pilot airs before making any final decisions.
--
Filming notices were posted on the Hottest fan cafe over the weekend for audience members of around 100 - 150. Nichkhun will be filming on February 19th and 20th (these are only the dates that fans are able to apply to be in the audience for filming). A photo of Seulong was posted on
2AM's Bestiz
, probably from the February 13th filming. The article says that filming will take place on the set of Inkigayo. It was mentioned on a kfansite that Khun left to Thailand after his sitcom filming.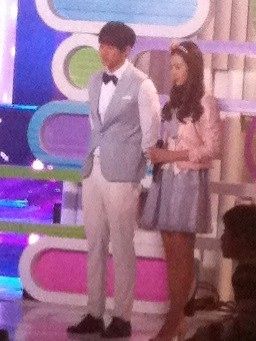 닉쿤 설리 (Nichkhun Sulli) is the number one search item on Daum right now!