May be taken out with full credits.
CREDIT: PINGBOOK (SOURCE) ; shampoo@2ONEDAY.COM (TRANS)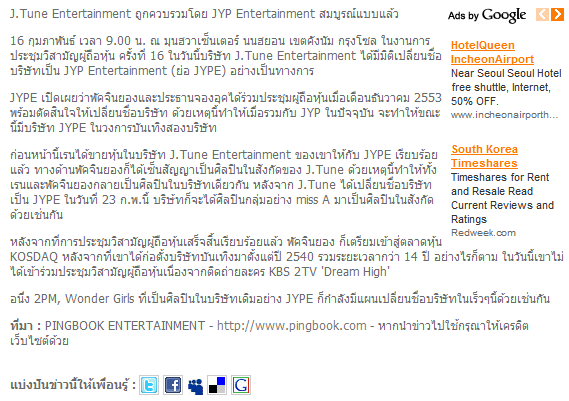 QUOTE
J. Tune Entertainment is officially merging with JYP Entertainment.
On February 16, 2011 at 9AM, the 16th general meeting for shareholders convened. J. Tune Entertainment has officially changed their company name to JYP Entertinment (JYPE).
JYPE had revealed that Park Jin Young and CEO Jung Wook held a meeting with the shareholders in December 2010 and decided to officially change the name of the company to JYP Entertainment (JYPE), there will be 2 companies with the name JYPE in the Korean music industry.
Rain has already sold his shares in J.Tune Entertainment to JYPE and Park Jin Young signed a contract to be an artist under J. Tune Entertainment. Rain and JYP have become artists under the same company. After J. Tune changes its name to JYPE on February 23, 2011, they will acquire artists like Miss A under the company.
After the board meeting (in December), Park Jin Young is preparing to enter KOSDAQ after his many years of building JYPE since 1997 which is about 14 years. However, today he wasn't able to join in the board meeting since he was busy filming KBS 2TV "Dream High".
Another thing, 2PM and Wonder Girls under the current company JYPE is planning to go on a company name change as well.