May be taken out with full credits.
CREDIT: 2AM BESTIZ, LOTTEDFS (SOURCES) ; roMANtaec@2ONEDAY.COM (SUMMARY)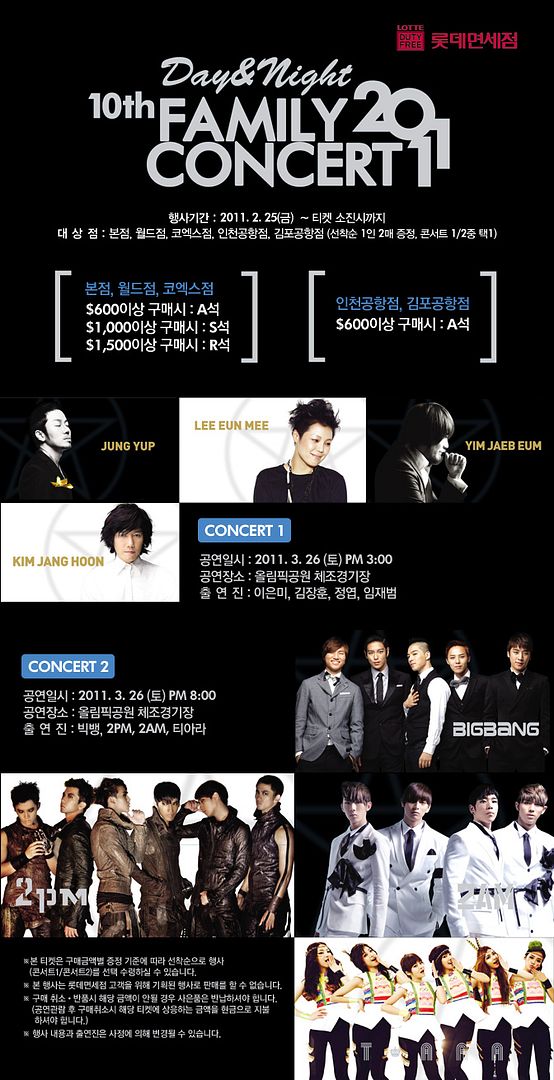 SUMMARY:Promotion Period:
2011.2.25 (Friday) ~ until tickets are soldout
In order to get tickets, you have to purchase a certain amount from the listed Lotte Duty Free stores. It lists how much they have to spend in order to get seats in a certain section ($600+ for A, $1000+ for S, $1500+ for R - idk why it's in USD, but it's that way on the poster!). The concerts take place at Olympic Park Stadium in Seoul.
Concert 1
is on March 26th, 2011 at 3PM and features Jung Yup, Lee Eunmi, Im Jaebum, and Kim Janghoon
Concert 2
is on March 26th, 2011 at 8PM and features Big Bang, 2PM, 2AM, and T-ARA.