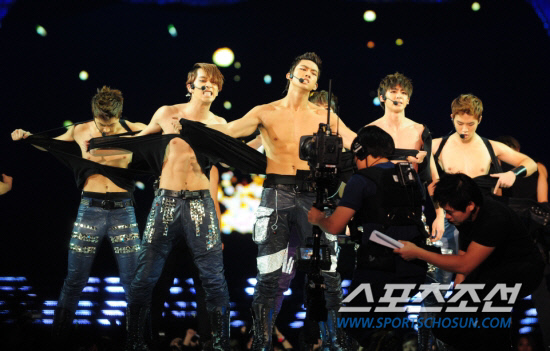 The "Beast Idols," with their appeal of wildness, are putting effort into their preparations for their advancement in Japan.
2PM, in tandem with Sony Music, will commence their activities in Japan, carrying out promotions and TV show appearances sometime around March. Language is their main challenge in doing full blown entertainment activities overseas. 2PM, in their preparatory period, have been receiving private lessons in Japanese and are aiming to boost their language ability.
Officials from the company they work for, JYP Entertainment, said, "In doing activities in Japan, the most important thing, after all is said and done, is language and [2PM] has been receiving private lessons from a teacher who is Japanese. Because this person can also speak Korean, the lessons have not been a great difficulty."
They also said, "
The members have been receiving one-on-one lessons in between work. They are all enthusiastic but Taecyeon and Nichkhun are especially quick learners.
Taecyeon knew a little Japanese from the start and Nichkhun (who has a Thai father and Chinese-American mother) has plenty of experience learning languages, such as Thai, English, and Korean. Thus, their learning seems to be going smoothly. Chansung, Wooyoung, Junho, and Junsu are also studying with utmost effort"
2PM will commence their full-scale promotions in March and their large-scale, nation-wide tour is set to occur in May.
Reporter: Baek Ji EunCredit:
Sports Chosun Enterntainment Korea (Japanese Website)
Article:
link
Translated by oraday
@ Wild2Day.org