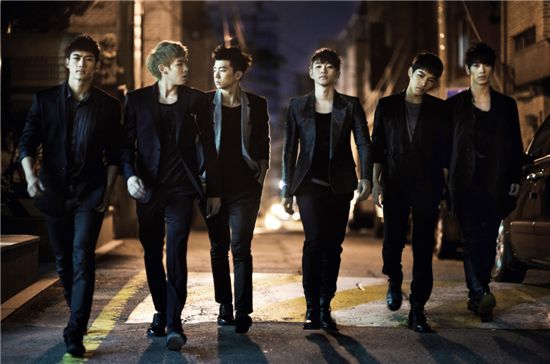 K-pop sensation 2PM will resume their activities in Japanese music market his week, according to their agency JYP Entertainment (JYPE) on Thursday.
"The boys are scheduled to leave the country to Japan tomorrow and will stay there till early March," a PR official from JYPE told 10Asia over the phone. "They will make appearances on television shows as well as take part in interviews with local media outlets."
She further explained that 2PM will also perform at Japan's biannual Tokyo Girls Collection on March 5 held at Tokyo's Yoyogi National Gymnasium and kick off their "Zepp Tour" in May where they will tour five cities in Japan including Sapporo, Fukuoka, Osaka, Nagoya and Tokyo.
The official added that the boys will begin working on their Japanese album in the country although the release date has yet to be set.
2PM made their singing debut in Japan in December last year, attracting over 25,000 fans to their first showcase, holding various promotional events for the release of their first DVD as well as topping mobile music chart Rechochuku with their songs "Without U," "Heartbeat," "Again & Again," "My Life 4 U" and "10 Out of 10."
Composed of members Nichkhun, Wooyoung, Junho, Chansung, Junsu and Taecyeon, 2PM has released a number of hit songs since their debut in 2008 including "Tired of Waiting," "Without U" and "Tik Tok."
2PM's most recent release in Korea was their mini-album "Still 2:00PM" last October, while outside of their group activities, each member has branched out into various aspects of the entertainment field with appearances on variety programs and dramas.
Source:
http://www.asiae.co.kr/news/view.htm?idxno...022410385573119