Pre-orders have opened in Korean stores for the Dream High OST album and the Dream High Special Making Book!
This is the complete OST set. The track list reveals 2 songs that we will most likely hear on next week's episodes! "My Valentine", a duet by Ok Taecyeon and Nichkhun, and "Dreaming" by Soohyun (Song Samdong). :D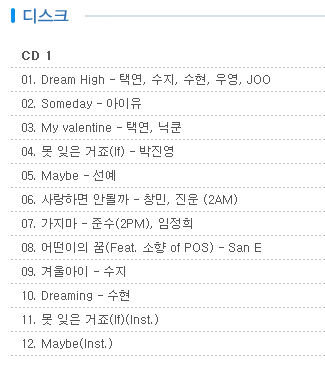 The book has a prologue & epilogue, plus 6 lessons: (1) Kirin Art School X-File, (2) Character vs. Character, (3) Famous, Favorite, Fabulous!, (4) Dream Come True, (5) Kirin Look Paparazzi, and (6) You Make Me High.